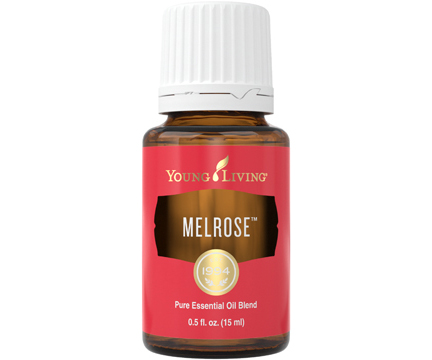 Melrose is one of my favorite Young Living Essential Oil blends. It is made of 2 varieties of melaleuca (alternifolia, aka, tea tree, and quinquenervia), rosemary, and clove. The scent is a little spicy in my opinion. The ingredients make it very cleansing which is excellent for your skin and scalp. It's a great addition to a facewash or shampoo; I've used it for both! It's also a good choice to support your respiratory system in a chest rub or in your diffuser.
One way Melrose is part of my everyday life is in my KidCare Cream. My little girl, bless her heart, is not the kid who wants a band aid for every little thing. My girl wants oil! And this balm, specifically. It includes lavender and frankincense, 2 of the most versatile oils out there, so with all these ingredients, it really is good for everything, physical and otherwise! These all have such great cleansing and soothing properties. Plus, making a small balm makes it convenient to keep on hand all the time. Any oily person will tell you, acting fast is key when using oils. They will also tell you to use what you have on hand to the best of your ability, so I thought is best to keep the most versatile oils with me all the time! Here's what I do:
Melt 1/2 teaspoon each of coconut oil and other liquid carrier oil of your choice with 1/4 teaspoon beeswax in a double boiler (I have a glass measuring cup with a handle that works nicely as a mini-double boiler)

Remove from the heat and cool slightly

Stir in 7 drops each Melrose and lavender, plus 5 drops frankincense

Pour in to a 5mL lip balm tin

Chill in the refrigerator to set (you should end up with a creamy balm, about the consistency of an ointment)
Just use a little dab, as needed, and rub it in on the wrists, temples, tummy, or directly where you feel you need it! This same combo of oils would make and nice spray for hands-off application, but I like the balm to use for emotional support. And I find the balm more convenient in my bag. My tin lives in my diaper bag and we have it on hand, literally, ALL the time! It's equally effective on nerves or a cranky mood as it is at comforting everyday little bumps. If you don't have Melrose, tea tree on its own is a nice substitution, but I really like the extra boost from the rosemary and clove.